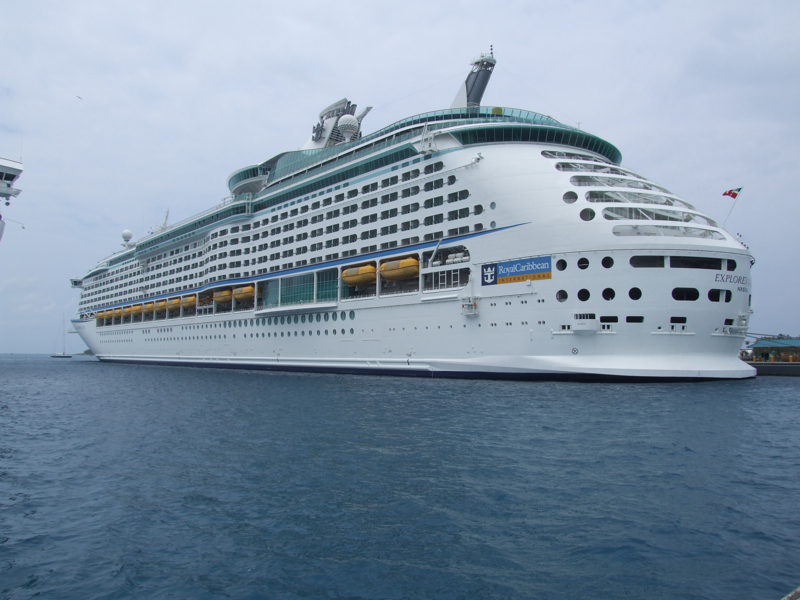 Just got back from our cruise in the Eastern Caribbean! We had an awesome time, it's amazing how quick a week can go by!
This was a family vacation, mainly to bring my mother-in-law on a cruise and get her out there and enjoy some nice weather and a good time with the family. We went with our in-laws and their four children. There were twelve of us in total… five adults and seven kids (so we were once again outnumbered). Everyone had a very good time.
One cool thing that happened kind of by accident, was that we flew out of Newburgh, NY – Stuart Airport, which is where Jet Blue flys out of. We'd normally fly out of Bradley, but because of the timing of the flight (spring vacation for CT and MA), there were no flights when we wanted to get out. Because my mother-in-law is handicapped, we needed extra time – so we flew out the day before the ship cruised so we could have a more leisurely trip down.
The actual process of getting in and out of Stuart Airport couldn't have been easier. It's a nice small airport – and it offered a direct flight to Fort Lauderdale. The flight was a dream. Every seat back had it's own TV with DirecTV and 36 channels to watch as well as 100? channels of XM-Radio. The kids were in heaven! I actually watched a bit of TV and then listened to my IPOD the rest of the time. Before I left my friend Brian hooked me up with "Joie Calio and the California Levitation Cult" pre-release CD – which had a few "re-mixed" tunes from the last dada EP. But I digress, that'll be for another post ;).
So, from Ft. Lauderdale, we took a handicap accessible van to Miami and stayed at they Hyatt.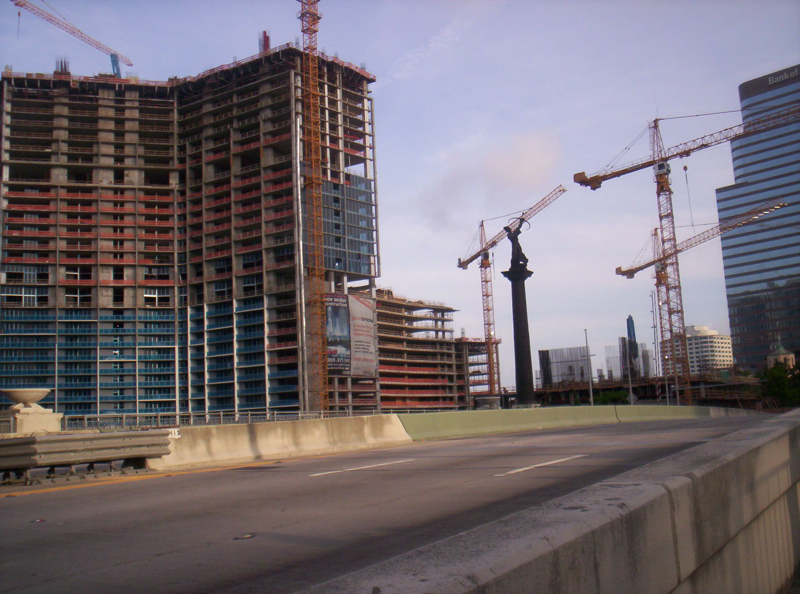 Miami was really cool, well actually, it was pretty hot – but I couldn't believe the amount of construction going on in the city. I counted something like FIFTEEN cranes building all sorts of sky-scrapers. Hotels, condos, businesses it was amazing.
Got in a quick swim with the kids and a quick lunch… then tragedy struck! Nobody got hurt BUT…
Eileen being the organized person that she is, decided to go back to the room and fill out the immigration paperwork for Nassau, Bahamas. When she started filling out the paperwork, she realized that her mother's PASSPORT was missing!!! Let me tell you, things got very bad, very quickly. We tore apart every bag, carry-on, everything looking for that passport and COULD NOT FIND IT ANYWHERE.
We started calling the Airport in Newburgh, in Ft. Lauderdale, the handicap van people – and nobody had seen hide nor hair of the passport. We were going into disaster mode at this point. The whole point of the trip was to take Eileen's mom, and now the one thing she ABSOLUTELY needed to board the ship was MISSING.
Just a side note here, the travel agent (who was amazing by the way) told us to make photocopies of all our documentation JUST IN CASE something got lost. And we did that, we took copies of all our passports, the kids birth certificates, credit cards, licenses, etc. – but you CAN'T use a copy of ANYTHING to get on the ship! It's all well and good to have, but it does you NO good whatsoever if you're in a pinch.
Luckily, we were able to call some neighbors at the beach and they were able to find her birth certificate and marriage license – which the cruise line would accept for boarding as well as immigration. Now, the only problem was it was 4pm on Saturday and we're boarding the ship at 11am the next day! HOW DO WE GET THE DOCUMENTS FROM Connecticut to MIAMI the same day???
We called Fedex and they actually offered the service! Okay, we're thinking we're going to pull this one off – it's going to work… one small detail though, there was a Nor'Easter blowing into town that night/next morning and it could effect the flights and we STILL COULD MISS boarding the ship on Sunday!!! Okay, back to panic mode – but they were able to confirm the pickup by 5pm, drive the documents to LaGuardia Airport and have it on the first flight out on Sunday Morning…
At that point, we all took a really big, deep breath… but we still didn't have 100% confirmation that we'd have the documentation on time – so we were still a bit uneasy. Just then, my mother-in-law had an idea: call the State Police barracks at the Stuart Airport and see if they'd check Eileen's car for the passport. At that point, we had nothing to loose, so I gave them a call. I found a Trooper that was willing to go check the car out!! Lucky for us, our SUV has a keypad entry and he was able to gain access to the vehicle.
What seemed like 10 hours passed (even though it was 40 minutes) and we didn't hear anything from the Trooper. So, now we're wheeling my mother-in-law down the streets of Miami, looking for a place to eat, calling Fedex, calling the NY State Police, nearly getting hit by the crazy drivers in Miami… can you say STRESS?? I finally decided to call the Trooper back to see if he was successful or not. Just then we got the best news EVER – he found the passport in the car on the floor! It must have slipped out of the binder that Eileen used to organize all the paperwork!
It was like the clouds parted and the sun started shining again – Eileen and I must have blown thru our 1000 minutes in that two-hour period between all the calls we made. While I was talking to the Trooper, Eileen was talking to the JetBlue agent trying to get them to hold the LAST FLIGHT out of Newburgh. The flight was literally taking off within 5 minutes when I found out that he found the passport! Between Eileen and myself, we were able to direct the Trooper to the appropriate gate, get them to stop the plane on the tarmack and get the passport on!
I don't have the Trooper's name with me right now, but I can tell you this, if we flew out of ANY other airport that day (Bradley, JFK, LaGuardia) – we would NEVER have been able to pull that off! A MILLION thanks to the Trooper and the crew of the JetBlue aircraft for getting the passport to us!
Oh yeah, I almost forgot, we had our three kids with us too! They were amazing as well, considering all the stress and ups and downs of the ordeal, they were excellent and didn't whine or give us a hard time about the whole thing – and believe me, they got all the ice cream and treats they wanted for being so awesome.
So, after a very long day of travel, and an even longer night of going back and forth to Ft. Lauderdale to pick up the passport – we finally had all the travel documents in hand and were able to board the ship!
Once that ordeal past – everything else was gravy. Getting on the ship was a breeze – and WHAT A HUGE SHIP! Very beautiful. We had side-by-side (not adjoining) cabins with balconies. That was really nice.
There was so much to do, so much to see, and EAT!
They had Miniature Golf, Rock Climbing, Water Slides, kids pools, adult pools, basketball, volleyball, Roller Blading, hot tubs, pools, all kinds of bands, a casino, a promenade with all sorts of shops, a Johnny Rockets, Ben and Jerry's, etc., etc., etc. Tons of activities and a kids club too.
We hit several ports: San Juan, St. Maartin, St. Thomas and Nassau, Bahamas.
San Juan was cool, we walked around Old San Juan a bit, but it was kind of hot and the kids were not into a big long trek – so we kept it brief. We visited the church (oldest?), and a few other sights. Was going to do some shopping, but who needs to go to Marshalls in Puerto Rico when you have one right in town? 🙂
St. Maartin was beautiful. This was one place where we did an excursion with all 12 of us. We found a handicap-accessible van to take us to the zoo and to Waikiki beach (at the end of Orient beach). We had lunch at Waikiki beach (awesome lunch) and then stayed at the beach for about three hours – the kids had a blast! Beautiful beach, white sands, blue water – just beautiful. There were some good waves for body surfing and the kids rented skim boards and had alot of fun with that.
St. Thomas was next, and one of my favorite places to go. This was the only excursion our family was going to take alone… we setup a sail and snorkel plan a couple of weeks before we took the trip… we were very excited to do this as a family. BUT (and you knew there had to be a but), apparently Royal Caribbean changed the age requirement on the excursion but never updated their paperwork OR their website. So, the excursion that we though was for ages 4 and up wasn't… it was for 12 and up. So, that basically blew the excursion for us. They refunded our money, but still, it would have been a fun time going sailing with just us and the kids.
So, plan "B" was to do a little shopping at the port (picked up some "booze" and trinkets) – and then to hit a beach. We wound up taking the advice of the Information booth and went to Morningstar beach – right near Frenchman's Reef.
What a beautiful beach! For the most part, we had the whole place to ourselves. The reason being is that most cabs want to take you to the farthest point on the island because they can make the most money from the fare. So, 90% of the travelers wind up going to those places. That was good for us!
The waves were intense. I've never seen waves like this on St. Thomas. Some were at least 6 feet high! When a wave can crash over my head, that's a BIG wave. I must have spent an hour and a half in those waves and loved every minute of it. The kids were a bit smarter though, and stayed at the edge of the water. Mainly because they would have been sucked under and crushed!
Last port of call was Nassau. We didn't venture too far out, because we wanted to pack and get ready for the next day of travel, so we did a little bit of shopping – I bought a new diamond earring for myself and that was about it. To be honest, if I ever went back to Nassau, it would only be for the beaches – the rest – eh, you can keep it.
So, the ports of call were alot of fun for the most part – but the best part was the FOOD. Every meal was excellent – I couldn't say enough about them. I got to try more different foods then I ever have. I made it a point to get something that I haven't tried yet – and I think that's the whole point of these type cruises. You get exposed to so many different new things that if you don't at least try them, you miss out!
Ya, okay so I probably gained 10 pounds, but it was worth it!
Pictures are up!!! Go here for all of them (and there are alot).