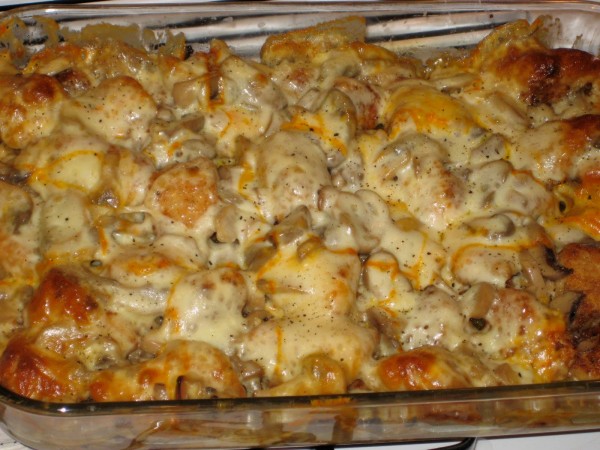 Super Chicken
2015-02-03 10:48:33
Serves 8
This is an awesome, easy, delicious recipe! We've been making it for years and we just re-discovered it, yum. It's so easy, that even Paula could make it - seriously, you could! I don't know who's recipe it is, but my mother-in-law came up with this and we love it.
1-2 lbs. boned, skinned chicken breasts (see note at end)
4 eggs, slightly beaten
1/2 cup butter
Unflavored bread crumbs (about 1 can)
1 can sliced, drained mushrooms
1/2 cup chicken bouillon
6-8 slices of Muenster Cheese
1 medium small onion
Slice chicken into 2"x1" strips (as well as possible. we found it was between tht and 2"x3")
Soak chicken in eggs for 1 hour
Roll chicken in bread crumbs and brown in butter
Sauté mushrooms and onions in butter
Put chicken in large pan or casserole keeping to one layer if possible
Top with mushrooms and onions
Cover with cheese
Bake 350 deg F about 1/2 hour. Cover with foil until the last 10 minutes
Note - I used a flat pan 9 x 13 x 2. In this i had room for 3 lbs of breast strips.
Also, you can put some chicken broth (1 chicken broth cube in a cup of hot water) in the pan with the chicken. Just before putting in the oven, dribble this in the corners of the pan (it avoids sticking).
Serves 8!
Enjoy!
Adapted from Eileen Prendergast
Adapted from Eileen Prendergast
Mastrio Web Page https://mastrio.net/