I'm all a-tingle… one of my all time favorite bands EVER is going to headline Bonnaroo, a festival down in Manchester, Tennessee.
My friend (and former bandmate) Dave has been going to Bonnaroo for years, and no doubt, will be going again this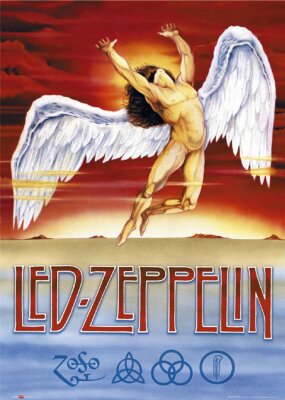 year.   Perhaps, I'll be making the trip as well?   This is a very compelling reason to go, for sure!   The thought of "camping" for four or five? days isn't very appealing, but with the list of bands, including Led Zeppelin, how the heck can I NOT go?
I haven't looked at the calendar yet, but I can all but guarantee that something that is a FAMILY, can't miss gotta do it will be that week and/or weekend.   Better yet, Eileen will have to travel for business and the GIG will be up.
Here's a bit of info:
NEW YORK (AP) ‐ The reunited Led Zeppelin will headline the 2008 Bonnaroo Arts and Music Festival, concert organizers announced Wednesday.
Led Zeppelin, who reconvened for a single December concert in London, had for months been rumored to be heading to Bonnaroo, which will be held Jun 13-15 on a 700-acre farm in Manchester, Tenn.
Confirmation of Led Zeppelin's Bonnaroo performance was sure to stoke further speculation on a possible reunion tour. Last week, guitarist Jimmy Page said he was eager to tour with singer Robert Plant and bassist-keyboardist John Paul Jones. (Jason Bonham, son of late drummer John Bonham, has joined on drums.)
Plant will also perform at Bonnaroo with bluegrass star Alison Krauss, with whom he made the hit duet album, "Raising Sand." Led Zeppelin recently released "Mothership," a two-disc compilation.
Also scheduled to perform are Metallica, Pearl Jam, Jack Johnson, Kanye West, My Morning Jacket, Willie Nelson, B.B. King, Phil Lesh and Friends, Sigur Ros, the Raconteurs, Against Me! and Death Cab for Cutie.
A lineup of comedians performing in the festival's "Comedy Tent" will include Zach Galifianakis, David Cross, Janeane Garofalo, Jim Norton, Mike Birbiglia and Brian Posehn.
Tickets to the seventh annual festival go on sale Feb. 16. More acts will be announced later, with an expected total of over 100 bands.