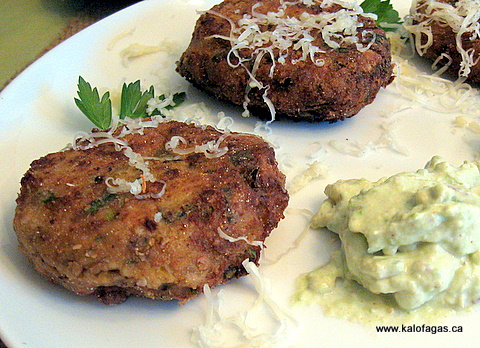 Eggplant Fritters
2014-12-11 11:50:08
We visited with my relatives from my father's side... Joe and Mary were great hosts!  Fabulous food and many, many laughs. Joe made this recipe and it was FANTASTIC!  I love eggplant, so I thought I'd share this with you all...
1 large eggplant, about 1½ pounds. Cut into ½ inch slices
2 tbsp extra virgin olive oil
1 egg, lightly beaten
2 crushed garlic cloves
4 tbsp chopped fresh parsley
2 ½ cups breadcrumbs plain or Italian
1 generous cup grated parmagiana cheese
1 generous cup of feta cheese crumbled
3-4 tbsp flour
cooking oil as required
Preheat oven to 375 F
Brush both sides of the eggplant slices with the olive oil and place them on a baking sheet. Bake until golden brown on each side. ( you can also get the same result by placing them under the broiler and turning them.)
Chop the eggplant slices into cubes and place them in a bowl. Add the cheeses, parsley, garlic and egg and mix. Add the bread crumbs and mix thoroughly. The mix should be moist and and sticky. Let it rest for about 20 minutes If it's very sloppy, add a bit more of the breadcrumbs.
Make small meatballs and flatten them.
Place the flour on a plate and flour the fritters on all sides. (This will make them easier to handle.)
Shallow fry the fritters on each side until golden brown.
Drain with paper towels and serve with sour cream or flavored yogurt and lime wedges.
One tip: when adding the breadcrumb, start with 1/2 cup at a time… I found that the eggplant varies in size and moisture – so you don't want to put too much breadcrumb. Keep adding 1/2 cup at a time (or thereabouts) until the mixture is moist and stick (enough to make meatball size balls).
Mastrio Web Page https://mastrio.net/