Sometimes you have an ingredient but you just don't know what you're going to do with it until you start. This was one of those situations. I had some chicken tenders (actually, they were chicken breasts cut into strips) that were buy-one get-one free at Big Y. I couldn't for the life of me figure out what to do with them – better yet, what to do with them so the kids would eat them!
I found some panko breadcrumbs in the pantry, but didn't quite have enough. So, I put some regular Italian breadcrumbs in with them so I'd have enough for about a dozen strips of chicken. I added some dried parsley to the breadcrumbs for color. At this point, get your pan ready. We have a great cast iron skillet, but you can use any heavy bottomed skillet. I put enough olive oil to cover the bottom of the pan and turn the heat up to medium-high (then lower when I start cooking, so I don't burn the breadcrumbs). Remember, you'll likely have to add oil as you go because the breadcrumb will soak up some of the oil as it cooks.
In a separate bowl I put my eggs, I use Egg Beaters, but you can use real eggs. I put some fresh cracked pepper and sea salt right into the eggs and mix well, then add the chicken to the egg mixture and mix around so the chicken is completely covered in egg. Then the fun part, take each individual strip of chicken and roll in the panko breadcrumbs and then put into the hot pan of oil. Keep an eye on the chicken so you don't burn the breadcrumbs, turn down the heat if they're cooking too fast. Once the bottom is golden brown, flip over and cook the other side 'till golden brown. Take out of the oil on to a paper towel lined plate…
Since I didn't want the dish to be just chicken, I found some Uncle Ben's Rice Pilaf – the 90 second microwavable variety. I had some white rice too, just enough for four servings. I put the rice on the bottom of a good sized casserole then put a single layer of the chicken on top of the rice. Then, put a scoop of Marinara sauce on each of the chicken strips. Sprinkle with Parmesan cheese, THEN (finally), put some fresh Mozzarella cheese slices on top. I like the BelGioioso pre-sliced Mozzarella cheese. Stick in a 400degF oven until the cheese starts to melt, then finish under the broiler to get the cheese bubbly and golden.
The kids LOVED IT!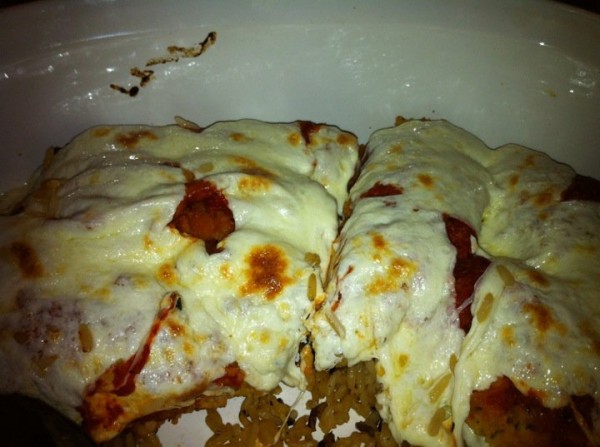 Chicken Parmesan alla Mastrio
2014-12-11 11:29:20
Serves 4
1 - 1.5 lb. package of chicken tenders (or could use chicken breast cut into strips)
2 cups of panko breadcrumbs
1 cup Italian breadcrumbs
1/2 cup dried parsley
2 cups egg beaters (or equivalent in real eggs)
2 packages of Uncle Ben's microwavable rice (or the real stuff, if you have the time)
1 package of BelGioioso pre-sliced Mozzarella
1 jar of your favorite Marinara sauce
Parmesan cheese
salt and pepper to taste
Preheat oven to 400 deg F.
Heat cast iron skillet with enough olive oil to coat the bottom of the pan - keep more on hand as the breadcrumb will absorb some of the oil.
Put eggs,  salt and pepper in a bowl and mix well.  Put chicken tenders into egg mixture and coat strips completely.
Put panko and Italian breadcrumbs into another flat pan (or a good sized plate) and mix together with parsley.
When oil is hot, turn down a bit so you don't burn the breadcrumbs (or cook chicken too fast)... take each strip out of the egg mixture and completely cover in the breadcrumb mixture.  Shake off any excess.  Place into the skillet and brown both sides (about 5 mins per side).  Again, if oil is too hot, turn the heat down so you don't burn your breadcrumbs.
When your chicken is nice and golden brown, place on a paper towel lined plate.
Once all the chicken is cooked, microwave your rice, place the cooked rice in the bottom of a casserole large enough to make one even layer of chicken.
Layer the chicken on top of the rice.
Spoon marinara sauce onto each of the strips.  Sprinkle with Parmesan cheese.
Place the sliced Mozzarella cheese on top.   I like to flatten out the slices so they are thinner - they will melt faster and cook more evenly.
Put in oven until the cheese melts - if you like, stick under the broiler to get the cheese golden brown.
Mastrio Web Page https://mastrio.net/