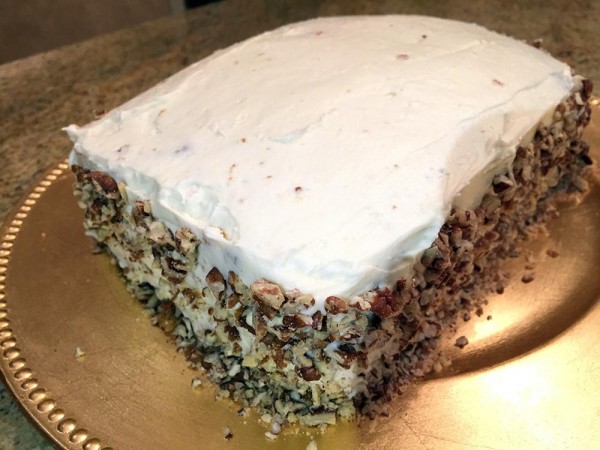 Carrot Layer Cake
2014-12-11 11:11:20
WHY THIS RECIPE WORKS: Preparing this cake in a half sheet pan means that it bakes and cools in far less time than a conventional layer cake, and—cut into quarters—it produces four thin, level layers that do not require splitting or trimming before frosting. Adding extra baking soda raises the pH of the batter, ensuring that the coarsely shredded carrots will soften during the shortened baking time. Buttermilk powder in the frosting reinforces the tangy flavor of the cream cheese without making the frosting too soft.
INGREDIENTS
Cake
1 3/4 cups (8 3/4 ounces) all-purpose flour
2 teaspoons baking powder
1 teaspoon baking soda
1 1/2 teaspoons ground cinnamon
3/4 teaspoon ground nutmeg
1/2 teaspoon salt
1/4 teaspoon ground cloves
1 1/4 cups (8 3/4 ounces) light brown sugar
3/4 cup vegetable oil
3 large eggs
1 teaspoon vanilla extract
2 2/3 cups shredded carrots (4 carrots)
2/3 cups dried currants
Frosting
16 tablespoons unsalted butter, softened
3 cups (12 ounces) confectioners' sugar
1/3 cup buttermilk powder
2 teaspoons vanilla extract
1/4 teaspoon salt
12 ounces cream cheese, chilled and cut into 12 equal pieces
2 cups (8 ounces) pecans, toasted and chopped coarse
INSTRUCTIONS
1. FOR THE CAKE: Adjust oven rack to middle position and heat oven to 350 degrees. Grease 18 by 13-inch rimmed baking sheet, line with parchment paper, and grease parchment. Whisk flour, baking powder, baking soda, cinnamon, nutmeg, salt, and cloves together in large bowl.
2. Whisk sugar, oil, eggs, and vanilla together until mixture is smooth. Stir in carrots and currants. Add flour mixture and fold with rubber spatula until mixture is just combined.
3. Transfer batter to prepared baking sheet and smooth surface with offset spatula. Bake until center of cake is firm to touch, 15 to 18 minutes. Cool in pan on wire rack for 5 minutes. Invert cake onto wire rack (do not remove parchment) and then reinvert onto second wire rack. Cool cake completely, about 30 minutes.
4. FOR THE FROSTING: Using stand mixer fitted with paddle, beat butter, sugar, buttermilk powder, vanilla, and salt on low speed until smooth, about 2 minutes, scraping down bowl as needed. Increase speed to medium-low; add cream cheese, 1 piece at a time; and mix until smooth, about 2 minutes.
5. Transfer cooled cake to cutting board, parchment side down. Using sharp chef's knife, cut cake and parchment in half crosswise and then lengthwise to make 4 equal rectangles, about 6 by 8 inches each.
6. Place 6 by 8-inch cardboard rectangle on cake turntable or plate. Place 1 cake rectangle, parchment side up, on cardboard and carefully remove parchment. Using offset spatula, spread 2/3 cup frosting evenly over cake layer. Repeat with two more layers of cake, frosting each layer with 2/3 cup frosting and pressing gently on each layer to level. Place last rectangle of cake on top and frost top of cake with 1 cup frosting. Use remaining frosting to coat sides of cake. (It's fine if some crumbs show through frosting on sides, but if you go back to smooth top of cake, be sure that spatula is free of crumbs.)
7. Hold cake with 1 hand and gently press chopped pecans onto sides with other hand. Chill for at least 1 hour before serving.
To Make Ahead: The cake may be refrigerated for up to 24 hours before serving.
TECHNIQUE
STRUCTURAL SOLUTION
For a cream cheese frosting that's stiff enough to hold several layers of cake in place, we used tangy buttermilk powder—along with confectioners' sugar—to add body.
TECHNIQUE
BUILDING A BEAUTIFUL LAYER CAKE
1. MAKE A THIN CAKE
Bake batter on baking sheet to create thin, level cake that doesn't need to be split horizontally.
2. CUT INTO RECTANGLES
Slice cooled sheet cake into four equal rectangles.
3. STACK 'EM
Spread frosting over rectangular layer placed on cardboard; repeat with remaining layers.
4. NUTS ON THE SIDES
Press chopped pecans onto sides of cake to hide any imperfections and add crunch.
Carrot Layer Cake
This American classic has a lot going for it: moist cake, delicate spice, tangy cream cheese frosting. If only it were handsome enough to serve to company, too.
Shred the carrots on the large holes of a box grater or in a food processor fitted with the shredding disk. Do not substitute liquid buttermilk for the buttermilk powder. To ensure the proper spreading consistency for the frosting, use cold cream cheese. If your baked cake is of an uneven thickness, adjust the orientation of the layers as they are stacked to produce a level cake. Assembling this cake on a cardboard cake round trimmed to a 6 by 8-inch rectangle makes it easy to press the pecans onto the sides of the frosted cake.
Adapted from © 2014 America's Test Kitchen. All rights reserved.
Adapted from © 2014 America's Test Kitchen. All rights reserved.
Mastrio Web Page https://mastrio.net/