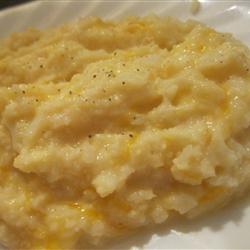 Smashed Cauliflower
2014-11-17 08:54:29
This was surprisingly delicious - make it in place of mashed potatoes...
1 large head cauliflower, cut into florets
3 cups chicken broth
3 tablespoons butter
1 cup shredded Vermont white Cheddar cheese
1/4 cup grated Parmesan cheese
salt and pepper to taste
Bring cauliflower and chicken broth to a boil in a large saucepan over high heat. Reduce heat to medium, cover, and simmer for 10 minutes. Uncover the saucepan and increase heat to medium-high. Allow cauliflower to simmer until soft and the cooking liquid has reduced by half, about 10 minutes.
Remove cauliflower from the heat, and add the butter, Cheddar cheese, and Parmesan cheese. Mash with a potato masher until the cheeses have melted and the cauliflower is smooth, then season to taste with salt and pepper.
To change things up, use one of the hybrid Broccoli/Cauliflowers - just as yummy!
Mastrio Web Page https://mastrio.net/