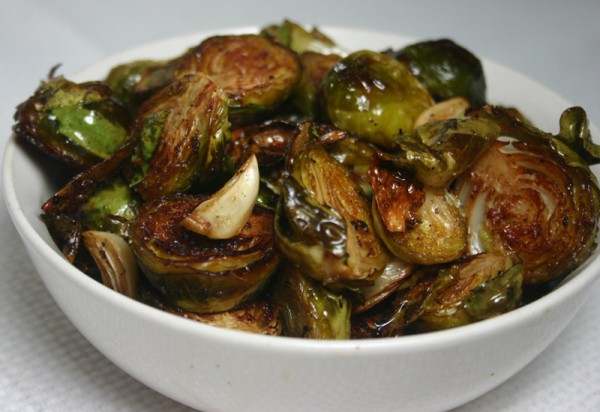 Roasted Garlic Brussel Sprouts
2014-11-17 08:50:28
This was a yummy little concoction I made tonight, and it was so good, I thought I'd post it up for you all to enjoy!  I found this basic Roasted Brussels Sprout recipe (thanks Barefoot Contessa)... I decided to kick it up a notch and add whole garlic cloves!
1 1/2 pounds Brussels sprouts
8-10 whole garlic cloves (or more, if you like!)
3 tablespoons good olive oil
3/4 teaspoon kosher salt
1/2 teaspoon freshly ground black pepper
Preheat oven to 400 degrees F.
Cut off the ends of the Brussels sprouts and pull off any yellow outer leaves.
Mix the sprouts and garlic in a bowl with the olive oil, salt and pepper.
Pour them on a sheet pan and roast for 35 to 40 minutes, until crisp on the outside and tender on the inside. Shake the pan from time to time to brown the sprouts evenly. Sprinkle with more kosher salt, and serve immediately.
It came out amazing, I wish I made more 🙂
Adapted from Barefoot Contessa
Adapted from Barefoot Contessa
Mastrio Web Page https://mastrio.net/