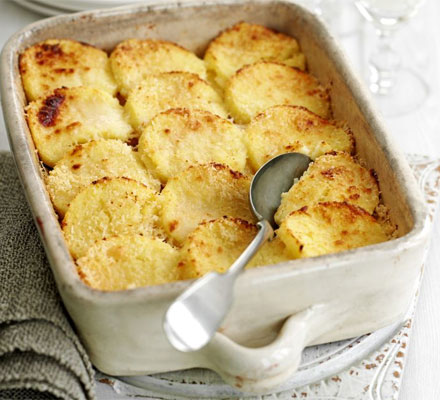 Gnocchi Alla Romana
2014-12-11 11:32:30
I'm just copying this down because I'm going to lose the recipe... made this last night, and it was AWESOME!!
8 cups whole milk
2 pounds semolina flour
8 tablespoons salted butter, cubed
1 tablespoon salt
1 teaspoon black pepper
5 egg yolks
Warm milk in a large, heavy saucepan over medium heat. Whisk in flour, butter, salt and pepper, and bring to a simmer, stirring constantly.
Lower heat and cook, stirring constantly with long-handled wooden spoon, for 30 minutes or until batter pulls away from the side of the pan in a solid mass. (You must constantly bring the batter up and away from the sides and bottom of the pan or it will stick.) At the last minute, add the egg yolks, mix in, and cook for 2-3 minutes.
Remove from heat and pour the batter onto a non stick cookie sheet with sides (if you don't have one, you can improvise like I did - use a regular cookie sheet, line with foil and spray with Pam) - spreading it out with a spatula to form a rectangle of even thickness. To prevent it from sticking to the spatula (or spoon), you may have to dip the spatula in cold water from time to time so that it glides over the top. cover lightly and set aside to cool. I put mine in the refrigerator for a couple of hours...
When cool, cut into circles using a small (1 1/2-inch round) cookie or biscuit cutter, or if you don't have one, use a small juice glass (dip in water to keep from sticking if necessary).
At this point, yo8u can either put the circles on a well-buttered sheet pan, dot with butter, sprinkle with freshly grated cheese and bake in a preheated 400deg F oven for 15 minutes or until golden. After this step, I put them into another pan, turned the broiler on and topped each with a circle of mozzarella, and broiled them until the cheese melted and turned golden. I then put them into a pool of a meat sauce I created - you can use whatever sauce you prefer - and then top with grated cheese.
YUM.
Gnocchi can be made up to 2 days in advance... Store, tightly covered and refrigerate.
Mastrio Web Page https://mastrio.net/