scraped off illinois entertainer website
dada
Park West, Chicago
Friday, April 6, 2007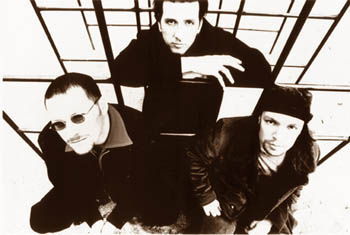 Hundreds of bands have soared to rarely seen heights only to be rebuffed just as quickly, but few did quite as exceptionally as dada. Nearly unavoidable when "Dizz Knee Land" hit the airwaves in the early '90s, they found the industry and public less receptive to their ensuing ideas.
Seeing how now is as good a time as any to reach out again, dada have released the A Friend Of Pat Robertson EP by themselves. Any band who can fill the Park West has a decent chance at rekindling, and Pat Robertson isn't shy on potential hits. The lush harmonies that are their — and many California bands' — trademark rush straight to the top of the mix on the title cut, which opens the EP and sets the pace. "72 Hours" sounds uncannily like it could have come from 1992's Puzzle, remastered to bring its jingle-jangle morning up to date.
From there, perhaps it's aggression or frustration, Pat Robertson goes on the attack. "7 Dot 1″ takes an effects-laden classic rock riff to attack consumerism, and the opening storm of "Emily Sang To Me" tries to conjure the devil before breaking into a molten, post-grunge stomp. "If Tears Were Balloons" closes the shop in typical, sweet-voiced dada style but by then the point has been made: What's past is prologue and not much more.
– Kevin Keegan
Click here to download a sample of "7 Dot 1."