I had some of the ingredients for the Pork Chop with Potatoes, Onions and Rosemary recipe, so I thought I'd go ahead and try it with Chicken!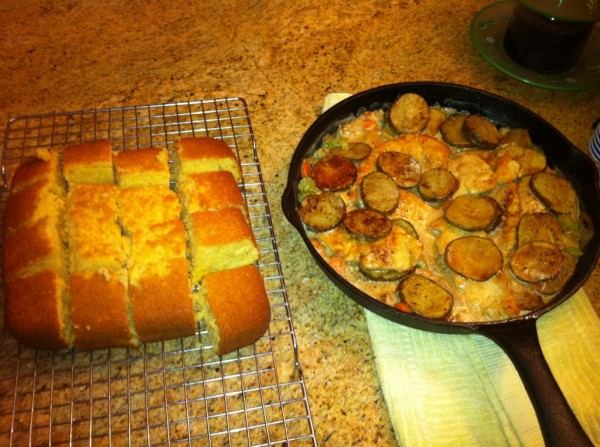 Chicken with Potatoes (pork chop variation)
2014-12-11 11:25:03
Serves 4
Olive oil
1 tbsp. butter
1/2 c. onions (your choice on what kind, I use sweet onions) diced
1/2 c. celery diced
1/2 c. carrots diced
3 lg. potatoes (I had small potatoes, but I cut them in my mandolin slicer to get 1/4" slices)
Chicken Tenders (pounded flat - easier to cook and cooks more evenly)
Flour (like a cup or so), flavored with salt, fresh cracked pepper, and St. Louis Chicken seasoning
1 c. chicken broth
Fresh ground salt (to taste)
Fresh ground pepper (to taste)
1 c. half and half (or cream)
Put 1 or 2 tablespoons olive oil and butter in a large skillet and cook onions, celery and carrots, without browning, until soft. Remove from pan and reserve.
Peel and slice potatoes 1/4 inch thick. Add olive oil to pan and saute potatoes until tender over moderately high heat, turning to brown both sides. I like to put fresh cracked pepper and sea salt on the potatoes as they cook, I think it adds a nice flavor to the end product. Add them to the onion, celery & carrot mixture.
Lightly flour the pounded chicken tenders.
Add more oil if the pan seems dry and brown chicken on both sides.
Lower heat and return potatoes and onions to the pan and add the chicken broth, half and half and pepper. The way I did it was, put a layer of chicken, put a layer of the potato/onion/carrot/celery mixture, then another layer of chicken, and repeat. I got two layers of deliciousness!
Cover tightly and simmer gently about 15 minutes.
Mastrio Web Page https://mastrio.net/